Raspberry PI Pico
If you are looking for a very small but yet powerful microcontroller for your projects, this is just the product for you. The Raspberry Pi Pico is a low-cost, high-performance microcontroller That is built using the RP2040 chip.
Programming this microcontroller is extremely simple since you only need to write the code that you want the microcontroller to do, connect the microcontroller to your computer using a USB cable and then upload the code onto your microcontroller. Using Thonny as the IDE to write the code for your Raspberry Pi Pico, makes it very simple to write and upload your code to the microcontroller.
The Raspberry Pi Pico can be programmed using C/C++, SDK, or with the MicroPython port.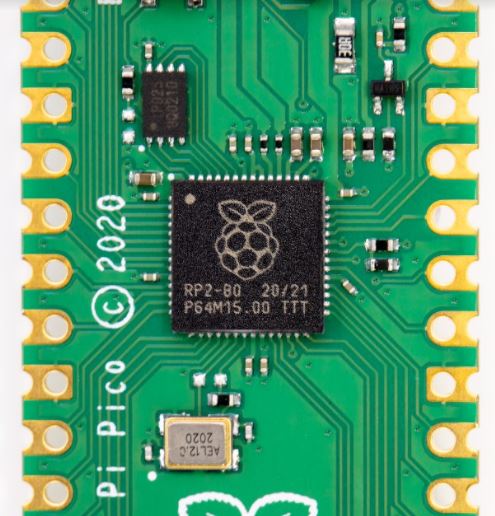 Technical specifications:
RP2040 microcontroller chip designed by Raspberry Pi in the United Kingdom
Dual-core ARM Cortex M0+ processor, flexible clock running up to 133 MHz
264kB of SRAM, and 2MB of onboard Flash memory
The castellated module allows soldering directly to carrier boards
USB 1.1 Host and Device support
Low-power sleep and dormant modes
Drag & drop programming using mass storage over USB
26 multi-function GPIO pins
2×SPI, 2×I2C, 2×UART, 3×12-bit ADC, 16×controllable PWM channels
Accurate clock and timer on-chip
Temperature sensor
Accelerated floating-point libraries on-chip
8×Programmable IO (PIO) state machines for custom peripheral support
The digital pins on the Raspberry Pi Pico uses 3.3V
Below is a pin layout diagram of the Raspberry Pi Pico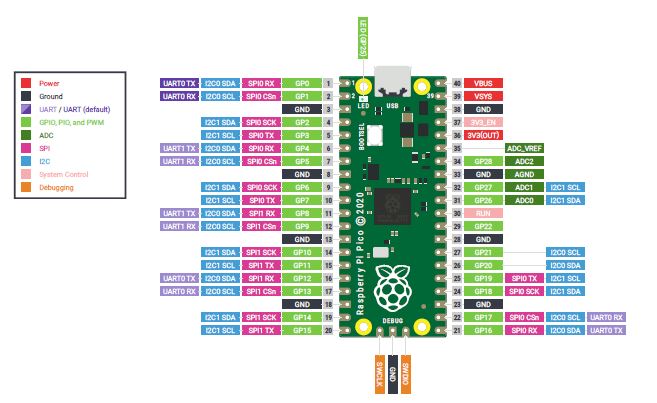 Extra resources:
Products you may also like:
Raspberry PI Pico W
Great microcontroller. Everything I expected from the little border. Thanks for pre-soldering the headers.
RaspBerry Pico W Great value for money.
It was everything I expected. I did a lot of research before deciding to use BotShop to buy the Pico W. BotShop even pre-solder the pin/ headers for me. Thanks a million.
Experience
For the limited resources on this it really expensive. Esp32 is be far a better option than pico. Also less issues with the port!
pico
the site show pre soldered headers and that is the main reason why I ordered mine (me really bad at soldering) and i collected it myself but did not take note
Hi Steph,
We do solder them for clients if you order them and request them to be soldered typically our walk-in clients request it.
Price was higher than I can get from other suppliers but the service was great. And at least you had it in stock
It's a great thing. Work very nice.