Description

Imagine having the ability to connect your Arduino projects wirelessly! The HC-06 Bluetooth Module makes this dream a reality, allowing you to easily communicate with other devices over Bluetooth connections. With a power consumption of only 0.5 mA for standby and 8.5 mA in active mode, it's perfect for battery-powered devices.
The HC-06 is a class 2 slave Bluetooth module designed for transparent wireless serial communication. Once it is paired to a master Bluetooth device such as a PC, smartphone, or tablet, its operation becomes transparent to the user. All data received through the serial input is immediately transmitted over the air. When the module receives wireless data, it is sent out through the serial interface exactly as it is received. No user code specific to the Bluetooth module is needed at all in the user microcontroller program.
The HC-06 will work with a supply voltage of 3.6VDC to 6VDC, however, the logic level of the RXD pin is 3.3V and is not 5V tolerant. A Logic Level Converter is recommended to protect the sensor if connect to a 5V device (e.g. Arduino Uno and Mega).
The power can be adjusted -23dbm, -6dbm, 0dbm, 6dbm, through an AT Command (AT+POWER).
How to use the HC-06
The above video will walk you through the HC-06 and how to connect it to your Arduino as well as how to use the AT commands that everybody is speaking about when it comes to Bluetooth modules. In this video, you will learn the connections, how to make those connections as well as a simple program for you to be able to speak to the Bluetooth module.
Wiring Diagram
Pin Out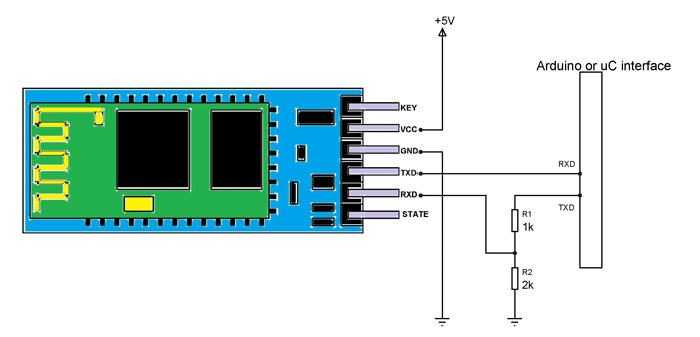 Technical Specifications
Input voltage: 3.6-6V
TTL voltage: 3.3V
Power consumption: 0.5 mA for standby, Active 8.5 mA,
Working for frequency:2.4GHz ISM band.
Modulation method: GFSK(Gaussian Frequency Shift Keying).
RF Power:≤4dBm, Class 2.
Sensitivity:≤-84dBm at 0.1% BER.
Speed: 2.1Mbps(Max) / 160 kbps (Asynchronous), 1Mbps/1Mbps(Max) (Synchronous).
Security: Authentication and encryption. Service
Working temperature:–5 ~ +65 Centigrade
Documentation
HC06 Bluetooth Module Datasheet

Links
HC-06 Bluetooth module for Arduino
Whole otder done completely prrfect Thank you.